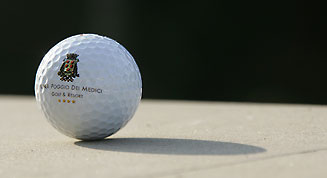 GOLF AND COUNTRY CLUB "Poggio dei Medici"
The course, par 73 with 18 holes, was designed by Baldovino Dass and Alvise Rossi Fioravanti according to USGA standards.
Opened in 1995, he was immediately recognized by the trade magazine "Il Mondo del Golf" as the best new golf course, and is building an international reputation over time, to be considered one of the most prestigious in Italy. It 'was recently selected by "Cond Nast Traveller" for its "Hot List" as "The best Golf Club", passing fields as the K Club in Ireland and the Greebrier in the United States.
The course is 6.397 meters long, 5.091 from the Ladies Tees, and 6,519 meters from the Championship Tees. Further 9 holes will be built in the near future. The course has extensive practice facilities, with a Driving Range and Putting and Pitching Greens. Golf Carts and Clubs are available for hire.
The open field all year, every day. A PGA pro available for private lessons. From 1999 to 2003 Poggio dei Medici has hosted the Italian Open Ladies European Tour; the winners of this field were: Samantha Head, UK, in 1999; Sophie Gustafson, Sweden, in 2000; Paula Marti, Spain, in 2001; Iben Tinning, Denmark, in 2002; Ludivine Kreutz, France, in 2003.
.