Snow and Nature - Snowshoe n. Zero: if you've never done it, if you want to make it easy!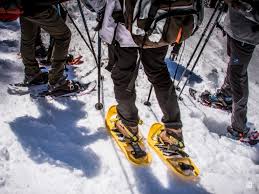 Every Saturday and every Sunday of January, February and March ... almost a mantra.
A regular event dedicated to winter and those who enjoy it outdoors, even with a snowshoe hike, why not? Altertrek offers you many activities including snowshoeing, for those who have never snowshoes or just want the guarantee that the route is easy and completely enjoyable, without too much effort: Ciaspolata n. Zero is born just like that, a few elements, but well dosed
and then
- Meeting point for departure Morning 9.45 Afternoon 2.00 pm
-service rental on site snowshoes and poles
- hiking environmental guide service
An excursion with snowshoes dedicated to novice snowshoes or to those wishing to hike on easy and very scenic routes.
Guide service € 10.00
Snowshoes and poles rental service € 8.00
To book, write an email to prenotazioni@altertrek.it
indicating name and surname and the date on which you intend to participate
number of participants
need or less of snowshoes
The exit is confirmed the previous day (Friday or Saturday) or in any case according to the weather forecast and the minimum number of members. An informative e-mail with all the details will be sent to all the members.
https: //altertrek.wordpress.com/2018/11/11/ciaspolate-per-ogni-gusto-dal ...
Date: mercoledì 2 gennaio 2019
Author: Borgo di Serignana