LA BALLOTTATA Il Castagno d'Andrea Appointments on 21 and 28 October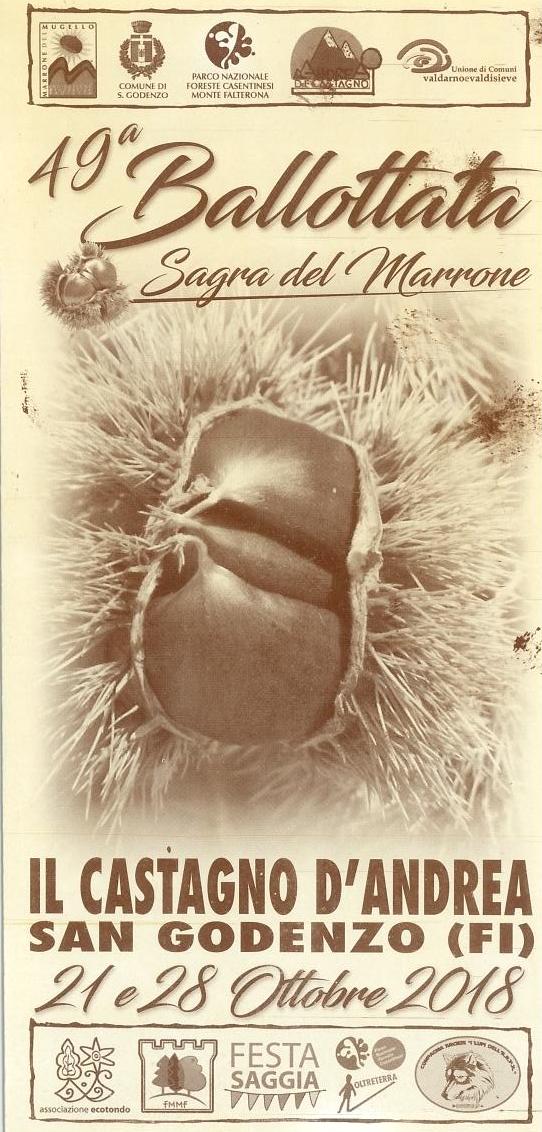 La Ballottata: in Castagno d'Andrea 2 Sundays dedicated to chestnuts and fruits of the forest
Appointments on October 21st and 28th
Two Sundays dedicated to chestnuts and forest products. Next Sunday 21st and 28th October at Il Castagno D'Andrea will be staged the 49th Ballottata, the now famous brown festival, which is born and grows in the woods of the town of San Godenzo.
As usual, there will be many opportunities to know how to taste this particular autumn product, in both days, in fact, it will be open from the early morning in the Marroni del Mugello I.G.P market and typical products. And through the streets of the village you can enjoy samples of burnt, ballotte, burnt briache, mulled wine, chestnut and other specialties of chestnuts.
Sunday, October 21st: the event will open at 10.30 with the inauguration of the exhibitions set up for the occasion: "La Castagna an ancient food" by Simone Sabatini and "Nelle Marronete" by Sandra Giachi. Together with these you can also admire the audiovisual installation "The civilization of the chestnut tree". At the cutting of the ribbon will be present the Mayor Alessandro Manni and Emanuele Piani President of the Consortium of Brown IGP.
At 11 o'clock you will be able to get to know the woods closely with a guided tour to a brown man with a heated squeegee (meeting at the Falterona bar). Always from the morning there will be the archery tests organized by the partner Arceri "La Compagnia della Ballottata" in collaboration with the "Compagnia 09 Wolf" the Lupi of ARPA. In the afternoon from 2.30 pm do not miss the performance of the Musical Group "La Leggera".
Sunday, October 28, the children will be able to travel around the country on donkey's back, while for the older ones there will be a guided hike on the "Nature Trail" by the Visitor Center of the Casentinesi Forests National Park (info and cell reservations). 3487375663). In addition, archery tests will continue. In the afternoon, from 2.30 pm there will be a performance by the "La leggere" Musical Group.
On both days the Oratory of Santa Maria delle Grazie will open with the works of Maestro Antonio Ciccone inside. Guided visits to the frescoes by Pietro Annigoni and pupils in the Church of San Martino are foreseen, through the streets of the town, various games for all organized by "I Ragazzi del Castagno". The exhibitions set up at the Visitor Center will be open at the following times: Sunday 21st from 10.30 to 18.30, Saturday 27 from 10 to 13, Sunday 28 from 10 to 18.
Date: venerdì 19 ottobre 2018
Author: Borgo di Serignana